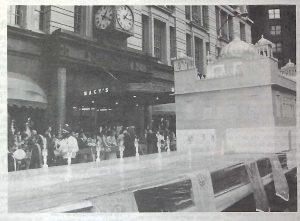 In New York City On Saturday April 22, 1989
TIME
11:30 am Assembly
At 38th, 39th, and 40th Streets between Avenue of the Americas and 7th Avenue across Broadway in Manhattan.
1:00 Pm
Start from 38th Street on Broadway
2:30 Pm
End at 14th Street and Broadway into Union Square Park (south side) opposite Macy's.
Thousands of Sikh men, women and children will march together led by the five beloved ones (Panj Piare) and the Sikh Holy Book (Guru Granth Sahib) on a colorful float depicting the Golden Temple.
There will be several other floats depicting Sikh philosophy, heritage and tradition. They will be accompanied by marching bands and interesting items.
Highlights Of The Parade
A reviewing stand will be set up at the Herald Square Park on 34th street and Broadway where leadership from religious interfaith groups State and City political VIP's and Sikh leadership in the New York tri-state and adjoining areas will review the parade.
Parade will terminate at Union Square Park (14th Street and Broadway) where participants will be addressed by guest speakers and langar will be served.
Come Join Us! Bring A Friend!
For more information contact your local Gurdwara
Jointly Sponsored By:
The Sikh Cultural Society of New York 9530 118th Street Richmond: Hill, NY 11419 Phone (718) 8469144
Garden State Sikh Association Gurdwara Bridgewater P.O.Box171 Pluckmin, NJ 07978 Phone (210) 6589805
Shri Guru Singh Sabha Glen Rock NJ 07452 Phone (201) 4479891
Mid-Hudson Sikh Cultural Society Fishkill, New York 12590 Phone (914) 8968994
Singh Sabha of New York Incorporated 4369 Bowne Street Flushing, NY 11355 Phone (718) 4612699
Sikh Center 3817 Parsons Blvd. Flushing New York 11355
Guru Ram Das Ashram 146 Bergan Street Brooklyn NY 11217 Phone (718) 8554856
The Sikh Forum Inc. 1065 Old Country Road Plainview NY 11803 Phone (516) 9319304.