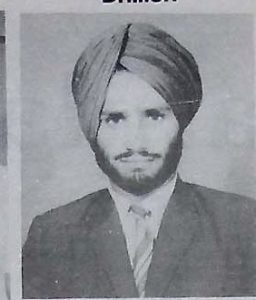 Mohinder Singh Dhilon is one of the few energetic and hardworking young men, who have successfully established a chain of stores in Fresno area.
Mr. Dhillon was born to Sardarni Gurnam Kaur and S. Thana Singh at V. Butter Kalan (near Moga). He passed matriculation from his native village in 1958 and got J.B.T. Diploma from Mission School Moga.
Dhillon joined as a teacher with Punjab and taught for 13 years before migrating to U.S.A. in 1974. First he liked Livingston to initiate his long journey to luck, but later, he found Fresno, as a better place to try his luck. So he shifted to Fresno in 1979.
Sardar Dhillon has established three store at Madera, Fresno and Fowler, which are being managed efficiently.
Mohinder got married to Mohinder Kaur in 1963 and they are the proud parents of two daughters Rajpal and Navi, and a son Tarsem Singh.