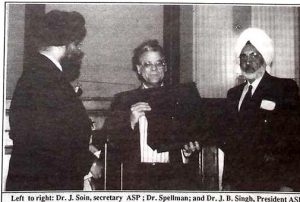 WASHINGTONDC: The Association of Sikh Professionals held the IVth Sikh Heritage Award Presentation on April 41992 at the Canon Room at the Capitol Hill in Washington DC. The recipient of the Award this year was Dr John Spellman from Canada. Dr. Spellman was recognized for his outstanding service to the Sikh Community and for his recognition of their problems. The Award was presented by Dr J.B.Singh president of ASP and Dr J. Soin Secretary.
The Dinner was attended by over 150 people from the Washington metro area Virginia and Maryland. ASP members from as far as California also were present. Congressman Vic Fazio sent a statement read by his Congressional aide He congratulated Dr.Spellman on the award and encouraged the Sikhs to continue working hard to gain recognition for their community. The Dinner was preceded by the Annual meeting of the Association of Skt Professionals. The Board of ASF reviewed the work of the past year and approved the next year's agenda and budget. Included i the coming year's agenda was proposal to work with the Sikh Foundation and to co-ordinate with them the growth of the Scholarship Fund for Sikh Youth in North America.
The meeting of the ASP was followed by a Youth Forum entitled "Succeeding as a Sikh in "America." This forum was attended by Sikh Youth from the Washington area. They had a chance to meet with Sikh Businessmen and Professionals including: Dr. G.S.Gill (Economist Us. Government); Dr.P.S.Ajrawat (Physician Maryland); Dr. Gurvinder Pal Singh (Research Scientist Texas); Dr. A.S. Marwah (Dental Surgeon Los Angeles) R.S. Dhingra
(Publisher — Connecticut); Dr.N.S.Kapany (Fiber-Optics Scientist California); and Dr.K.C.S.Sahni (Neurosurgeon Virginia)
This year's Washington meeting was a great success. The ASP will continue with its Sikh Heritage Award presentations on a yearly basis. They are committed to continuing to work for the betterment of the Sikh Community.