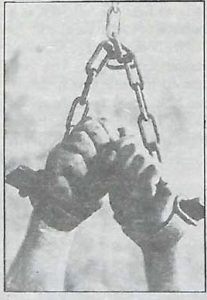 Killing of Innocent Sikh Engineering Students at Bidar has once again demonstrated that Sikhs cannot live honorably in India. They have no choice but to strive for the Freedom of their homeland, Khalistan.
WORLD SIKH ORGANISATION
Is committed to struggle peacefully for the Liberation.
Of Khalistan.
EVERY SIKH MUST JOIN THIS
UMBRELLA ORGANISATION.
IT IS THE ONLY REPRESENTATIVE ORGANISATION THAT IS CADRE BASED AND FOLLOWS A DEMOCRATIC CONSTITUTION.
LOCAL CHAPTERS ELECT THEIR OWN DELEGATES AND THE ELECTED DELEGATES IN TURN ELECT THE NATIONAL COUNCIL.
Join the WSO Chapter of your area and strengthen the cause of SIKH FREEDOM.
For more information write to:
WSO OFFICE
P.O. BOX 70273 STOCKTON, CA 95207
GURCHARAN SINGH DHILLON,
President
SURINDERPAL SINGH KALRA,
Director Administration