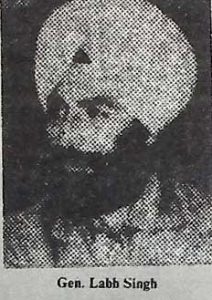 AMRITSAR, PUNJAB, India: Gen. Labh Singh, Chief of the Khalistan Commando Force Was short dead by the police while going on foot near Hoshiarpur town in Punjab, according to a report by the BBC. His companion was also killed in the volley of bullets fired at them by the police. His body was reportedly identified by his wife,
Gen. Labh Singh, whose real name was Sukhdev Singh, had given up his career in the Punjab police in the wake of Operation Woodrose in which Sikh young men were brutally massacred by the Army and police units in fake encounters. His conscience revolted against the organized state terrorism let loose to suppress the Sikhs and he decided to champion the Sikh cause for justice and liberty.
In a short period, Gen. Labh Singh organized one of the most powerful forces and became a household name in Punjab. He emerged as the hero of the Sikh youth and the most dreaded man for the police. Under his leadership Khalistan Commando Force scrupulously adhered to the lofty Sikh ideals and exhibited perfect disciline.
The news of the death was received by the Sikhs in America and Canada with a sense of shock and disbelief, World Sikh News office received anxious calls from a large number of Sikhs to confirm the news as well as to express their sorrow. It was also learnt that 'Sikhs at many places have decided to hold Akhand Paths (continuous recitation of Guru Granth Sahib) to pay their homage to the valiant freedom fighter.