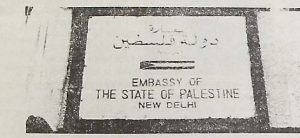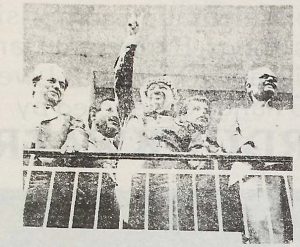 The foundation stone of the embassy of Palestine in New Delhi.
NEW DELHI: Rumours of a pro-Israel tilt by India were dispelled by a 2 day high profile state visit of the Palestine Liberation Organization Chairman Yasser Arafat. Arafat was given a rousing reception which included a 21 gun salute and the route from the airport to the Rashtrapati Bhavan was covered with have hill hoards of Gandhiand Arafat, banner proclaiming Indian solidarity with PLO and condemning "Israeli Terrorism."
India recognizes Palestine as a state and Arafat was given a reception with the full trappings reserved for a head of a state. He also opened an Embassy for Palestine in New Delhi, on March 10. Earlier the P.L.O. has had a mission in New Delhi.
Arafat has been a close friend of the Gandhi family and was received at the airport by President Venkatraman and Prime Minister Rajiv Gandhi on March 9. Both embraced the P.L.O. leader.
He had two rounds of talks with Gandhi and is said to have discussed developments in Afghanistan, Kampuchia, and the Iran Iraq conflict.
Our correspondent from New York adds: Jewish leaders lead by the chairman of the house subcommittee on Asian and Pacific Affairs, Rep Stephen J. Solarz (D, N.Y) had met Prime Minister Rajiv Gandhi here during his visit to the United Nations last year.
They had asked Gandhi to improve ties with Israel and maintain an embassy in that country.
Another three member delegation of the Anti-Defamation League had also visited India to press for closer ties but to no avail.
India recognizes Israel but does not have any diplomatic relations with it and does not have any representatives there. Israel on the other hand has maintained a consulate in Bombay. It also helped India with arms during the India China war in 1962.