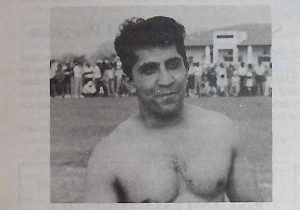 WSN: Peter, how do you rate the U.S.A team players?
Peter Nirvair Singh: Good players, on the scale I 10 10 say about 7.
WSN: The Modesto tournament that Just concluded, what is your opinion of this tournament?
PNS: it is a good tournament very competitive, they could have sill had more people watching it so that the more numbers who 'see this game, the more the number of players who will play Kabaddi. Compared overall in other tournaments it was a good one.
WSN: Kabaddi is a very physical sport, how do you maintain your physique? Any special exercises or diet?
PNS: Just heck of a lot of training 5 days a week, running, sprinting, bikes, stay active. Because I train so regular. I can digest just about anything. Meat, fish, cakes hamburgers, rotis you name it and I eat it.
WSN: Kabaddi today is a popular sport. Do you think it is more popular than in the past?
PNS: In U.K. it is just the same, because it is more of international sport, at a professional level. At world level I think it is getting better.
WSN: What brought you into this sport, 'when there are others in UK like soccer?
PNS; Why was brought up in England in the Sikh community and I used to sprint and run. It all started from there.
WSN: Was it at home, school or amongst friends?
PNS: Mainly amongst friends, we competed against each other.
WSN: Do you think you could reach higher level in Kabaddi than that for already are?
PNS: Yes, with more match practice, and playing with better players like the matches here, more competitive games will make me a much better player.
'WSN: How has your stay in California been?
PNS: I have enjoyed it, it's been pretty good, the people are very nice and we were accepted quite well, the weather has been 'much better than England.