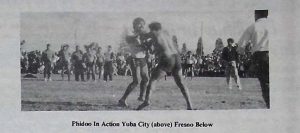 By our sports correspondent YUBA CITY, CA: At last the much awaited Kabaddi test matches, between USA and England came to an end last weekend. The first game in Modesto on March 12th 'went in favor of England who played an outstanding game.
In the second encounter on March 18th at the Gurdwara Caruthers grounds, U.S.A. Xi caved inerter great performance in the first half; in the end England wrapped the match 38-25. The Punjab Sports Club those to call organizers made wonderful arrangements serving lunch and refreshment to all. The threat of rain, which existed before the 'game was gone, as soon as the game got underway. Still, one thing that future games should take into Consideration is starting on time, the delay of nearly one and a half hours, is something that the powers that be could look into and make necessary amendments.
The last game in these encounters took place on a warm, sunny afternoon on March 19th in the Tierra Buena Gurdwara grounds. The crowds that turned up in several thousand along with the TV crew added a touch of class and glamour to the 'game, this was the game that was the best of all there was lots and lots of action. Phidoo as usual was outstanding. It was here that he was trapped by England for the first time. Even the best of English raiders, Peter, Sulakhan and Jamail were also trapped by the U.S.A defenders who stayed court after having a tom shoulder muscle in the Fresno game. The teams shared an almost even first half but the second half was decidedly England's. On the slippery outfield the victors out did the hosts by 42.29,
In the evening at the dinner party in honor of the players, officials and others at Bonanza Hall here, everybody praised the players; The next day Monday March 20th the England team boarded a Pan Am flight at San Francisco International Airport for London, thus bringing down the curtain on. a weeklong sports festival.