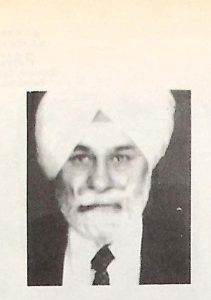 The Sikh Nation has been feeling the need for a Sikh Newspaper since long, due to animosity of the Govt. of India, the venture could not be successful. To quote the Words of Great Sikh martyr Sant Jarnail Singh Bhindranwale, in India, the press is the hand-maiden of the Govt., which will never tolerate a free press critical of the Govt. and its policies or personalities.
By starting ''World Sikh News" the maiden copy of which is coming out on such an auspicious occasion as Guru Gobind Sigh's birthday, you have fulfilled one of the long cherished aspirations of the Sikh Nation. Apart from giving the latest news from India, I am sure the paper will amply highlight Sikh policies and programs and be a powerful spokesman of the World Sikh Organization.
The Sikhs of India feel the way Jews felt in Nazi Germany. India's 15 million Sikhs continue to suffer the blame for the assassination of an old politician. This has led to the destruction of 167 Shrines burning of 6,000 sheds and houses, and Killing of 10,000 to 15,000 Sikhs in Delhi alone. To retaliate against the entire Sikh community because of the action of two individuals is a wanton show of rabid communalism. Sikhs now feel that invasion of the Golden Temple, destruction of Akal Tahkat and the calculated genocide of innocent Sikhs all over India has laid the foundation of a sovereign Sikh State.
Finally, l would like to congratulate the Trustees, for taking a solid step to promote the Sikh ideals. l would particularly appeal to all Sikhs in America and in other countries to contribute to the paper, so that it can 'perform its national duty successfully:
S. Bhullar
Maj. Gen. (Retd.)
Secretary General
WORLD SIKH
ORGANIZATION