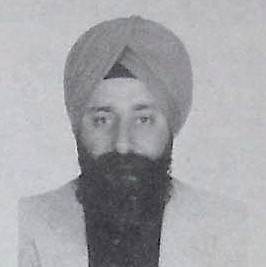 Hardworking and determined Hardyal Dhatt came to the United States in 1972 via Canada. Born in 1950 Dhatt gave up his studies while a student at Lyallpur Khalsa College Jullundur and reached Stockton.
He worked day and night and invested his savings in real estate and thus let his savings grow gradually. He has been actively participating in Gurdwara Sahib Activities. He has served the Gurdwara Sahib as Assistant Secretary, Secretary and Vice President since 1973.
In 1984 he was one of the organizers of Sikh Solidarity and was nominated as spokesman for Stockton. His statement that there is no alternative to Khalistan left for Sikhs was published in Tribune and Indian Express. He has been a member of the National Council of World Sikh Organization from the day of its inception. He is happily married. His wife Narinder has been extending all the cooperation which made his participation in Sikh activities possible. He is working at the American Forest Products.