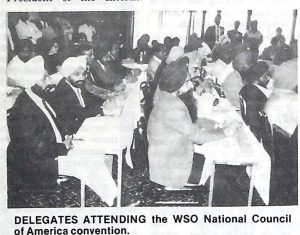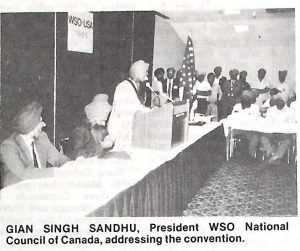 "Empty slogans won't lead us anywhere. We have a gigantic task ahead and we are up against unpredictable odds," asserted Ganga Singh Dhillon. Speaking to World Sikh News after his election as President of the WSO National Council of America, he expressed his profound 8ratitude to the Sikhs for reposing confidence in him.
"The challenge is formidable but I hope to cope with it with the total and complete support of each Sikh. We can't afford the luxury of pulling in different directions at this critical juncture in the history of Sikhs." He felt that revival of Gur-Sikh traditions was necessary to steer clear of unethical politics. "Our struggle is for freedom and justice and for upholding fundamental human rights and we expect all freedom loving democratic countries of the world to champion our just cause," he said.
He further said that he was drawing up a master plan to involve each and every Sikh with the Organization." We need to function at various levels and the whole structure is to be geared to a priority oriented schedule. For example, we have to enlighten the media and remove motivated misconceptions regarding Sikh religion and its approach to the cult of violence," he elaborated.
Ganga Singh Dhillon has been elected to a two year term and he would serve as ex official Vice President of the International Governing Council of WSO. S. Gian Singh Sandhu was earlier elected President of WSO National Council of Canada at a convention held at Vancouver, B.C. Canada.