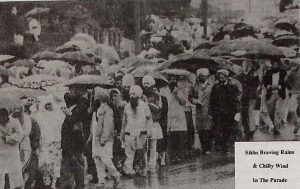 VANCOUVER, B.C.: More than 10,000 Sikhs participated in the annual Khalsa Parade despite heavy rain and cold winds. The procession started from the Ross Street Gurdwara and marched along Marine Drive and 49th Avenue.
Premier Bill Vander Zalm appeared on the platform beside World Sikh Organization President Gian Singh Sandhu of Williams Lake. Members of the International Sikh Youth Federation and Babbar Khalsa were other prominent groups that participated in the enthusiastic display. It was a perfectly peaceful parade.
The presence of the Premier and Vancouver South M.L.A. Russ Fraser is significant in view of the letter written by Joe Clark to the Provincial governments asking them to boycott functions organized by WS.O. I. S.Y.F. and Babbar Khalsa.
After the parade, Vander Zalm said Clark is wrong to try to distinguish between Sikh group: because all they show up together at public gatherings.
"They all come, and they are very committed," he said. He has also written to Clark saying he will continue to meet with all Sikh: "provided it's not of a political nature".
The precisionists were chanting slogans like "Khalistan Zindabad", "We Will Get Khalistan".