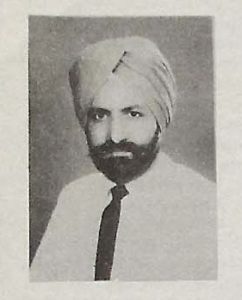 FREMONT, CA: The bhog of an akhand path, the continuous recitation of Guru Granth Sahib, to mark the first barsi of the death of S. Rajinder Singh Kahlon will be held on February 18 at the Premont Gurdwara.
S.Rajinder Singh was born in 1929 at Burra Dalla in Gurdaspur district of Pakistan, He studied at the Agriculture College in LyalIpur where he was awarded a degree in BSc (Agriculture) after which he came in 1950 to the Washington State University in Washington, where he took a degree in Civil Engineering and on his return to India he was appointed Deputy Advisor to Government of India (Engineering).
Subsequently he joined the Department of Agriculture in India.
In 1965S. Rajinder Singh Kahlon came to the United States on a one year Rockefeller Foundation scholarship. Here he received a Masters Degree in Soil and Irrigation. He rose to the rank of Director of Board of Agriculture in India.
IN 1969 he immigrated to the United States and in 1974 he came to Southern California where he was joined the Public Utilities Commission in San Francisco.
S.Rajinder Singh Kahlon was the first person in his family to migrate to the United States; Subsequently he sponsored several other family members and brought them here.
He was well known for his helpful attitude and was always happy to see other Sikhs succeed.
He was also a prominent supporter of the World Sikh News.
Dr. Gurinder S. Grewal, President of the World Sikh News said, "Mr. Kahlon was a father figure for the community. He was always. Very helpful to everyone."
S.Rajinder Singh Uppal passed away on March 1, 1988. He is survived by his wife Mrs. Briginder Kaur, daughter Neenoo Kahlon who is a Physician and two sons, S. Ravinder S. Kahlon who is in the Postal service and S. Raminder S. Kahlon who is an Engineer. All the family is settled in the Bay area.
The Bhog will be at Fremont Gurdwara on Saturday February 18 at 2:00 p.m. All friends are requested to attend.