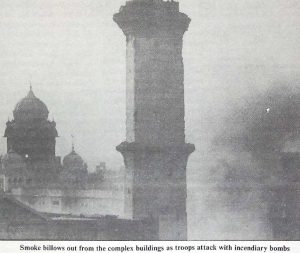 AMRITSAR, Punjab, India: May 16, Reuter: Indian commandoes repeated their call to Sikh freedom fighters barricaded inside the Golden Temple to surrender on Monday and gunmen outside retaliated by killing at least 25 people, mostly Hindus.
"This is your last chance to surrender," the Commando led paramilitary police said over loudspeakers.
"We will tell you when, where and how you are to surrender later," the announcements in the Punjabi language said.
The gunmen did not respond and shortly afterwards police resumed firing into the temple, the Sikhs' holiest shrine.
Retaliation for the weeklong police siege came in a spate of attacks across Punjab aimed mainly at minority Hindus.
Gunmen sprayed bullets at a market place at Samana, near Patiala town later on Monday killing at least eight people and wounding 18, police in the state capital Chandigarh said. The Press Trust of India news agency put the death toll at 14,
Gunmen struck at several other places in the north Indian state killing at least 17 people, police said. Twelve people were killed on Sunday.
Police said they had expected retaliation for their siege of the Golden Temple in which at least 30 people, mostly freedom fighters have been killed since May 9. Police say they are determined to end the temple's role as a fort for the gunmen fighting for an independent Sikh homeland in Punjab called Khalistan Land of the Pure. More than 900 people have been killed there this year.
The freedom fighters inside the Temple had earlier spurned surrender appeals from colleagues who quit the battle against the security forces on Sunday.
None of the three groups of gunmen, containing men fighting for an independent Sikh homeland was moved by the earlier surrender appeal from three men and four women who left the complex on Sunday. The militants say they prefer death to surrender.
"With folded hands I request you to come out. We have been treated well. We have been fed well", said Surjit Kaur through a loudspeaker as she cradled her seven month old baby.
Reporters watching the surrender appeals from government positions overlooking the white marble complex saw seven bodies lying on walkways and on a roof.
The paramilitary forces used heavy machine guns to try to punch holes through the walls of the two towers after an apparently unsuccessful attempt to penetrate their basements.
But the fight against the third group of gunmen in the Harmandir Sahib posed a dilemma for security forces. The building, set in a large pool at the end of a marble causeway, houses the Sikh Holy Book, the Guru Granth Sahib.