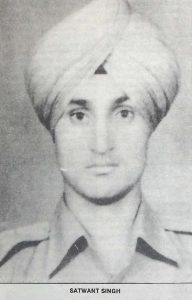 By MICHAEL BATTYE NEW DELHI, AUG. 3, REUTER — India's Supreme Court on Wednesday freed Balbir Singh sentenced to death for plotting the assassination of Prime Minister Indira Gandhi, but confirmed the extreme penalty on Satwant Singh and Kehar Singh.
Three judges said the government had not proved police inspector Balbir Singh had plotted to kill Gandhi on October 31, 1984, and ordered him freed.
But they said Satwant Singh, 24, a policeman who emptied his gun into Gandhi's body, and former civil servant Kehar Singh, 47, accused of inspiring the killing, and should hang.
The court was ruling on an appeal by the three Sikhs who were sentenced to death after a trial in 1986,
Kehar Singh's son Rajinder told reporters he would ask the court to renew its ruling which had come as a shock.
"If that does not help, we would move a mercy petition to the president (Ra) maswamy Venkataraman)," he said outside a packed courtroom surrounded by tight security.
Judge G. L. Oza said in a written judgment released later that the assassination by Satwant Singh and fellow policeman Beant Singh "repels any consideration for a reduction of sentence."
Beant Singh was shot dead by other members of Gandhi's guard.
"Even the coconspirator who inspired the persons who actually acted does not deserve any leniency," he said of Kehar Singh, Beant's uncle.
"It is one of the rarest of rare cases in which the extreme penalty is called for," added Judge B.C. Ray.