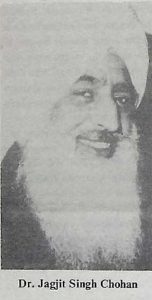 AMRITSAR, Punjab, India: In a statement released to the press, Bhai Wassan Singh, a senior member of the Panthic Committee, stated that Council of Khalistan is being expanded in view of the fast progressing movement for Khalistan, Due representation is being given to the organization in foreign countries that are making a significant contribution to the Khalistan struggle, he said. He thanked World Sikh Organization of America and Canada, International Sikh Youth Federation (Damdami Taksal) England and Babbar Khalsa (Panthic) Canada and appealed to the Sikh sangats to extend full support to these organizations.
Announcing the names of the new members of the Council, he said that the office of the President of the Council of Khalistan has been abolished and Dr. Jagjit Singh Chohan has been appointed as the Chief Spokesman of the Council. All members will have equal status and rights. Others nominated to the Council include Bhai Jagjit Singh Mangat (New York); Bhai Gurnam Singh Pamma (Live Oak, California), Bhai Naunihal Singh (New York), all the three from World Sikh Organization, Bhai Daljit Singh Sandhu (Canada), also from W.S.O.; Bhai Joginder Singh Bal (U.K.); Bhai Tarsem Singh (U.K.); Bhai Manmohan Singh (U.K.); Bhai Charan Singh (Hong Kong); Bhai Pritam Singh (Singapore).
Bhai Wassan Singh also disclosed that very soon more persons will be nominated to the Council. He appreciated the constructive role of Bhai Ranjit Singh Mann (Montreal); Dr. Gurinder Singh Grewal (California); Bhai Didar Singh Bains (California); and Bhai Surjan Singh (Vancouver) in the Khalistan struggle and thanked them on behalf of the Panthic Committee. He ended his statement with an appeal to the Sikhs everywhere to support the Khalistan movement and asked them to cooperate with the above mentioned organizations and individuals.