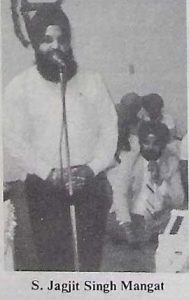 FRESNO, Ca. The Sikh sangat of Fresno gave a warm reception to S. Jagjit Singh Mangat, President of Sikh Cultural Society, and New York on his nomination as member of the Khalistan Council by the Panthic Committee. Sardar Mangat was greeted with the slogans of "Bole So Nihal" on his arrival at Gurdwara Sahib Caruthers (Fresno) on Sunday, May 22, 1988. S. Charanjit Singh Bath, President of Pacific Coast Khalsa Diwan Society, Fresno, welcomed the new member of the Khalistan Council and assured him all the support in performing the duties as a member of Khalistan Council.
Later, S. Jagjit Singh Mangat thanked the sangat to undertake any possible steps to mobilize the Sikhs to achieve the final goal of the Sikhs — establishment of Khalistan, He warned the Government of India of dire consequences for its continuous attacks on the Golden Temple. He appealed to the Sikhs to unite to fight the repression of the Government of India against the Sikhs. Sardar Mangat also explained the position of Gill and Sandhu case in the context of Judy Russell's disclosure and called upon the sangat to support the defence committee in every possible way.
Later Mr. Mangat accompanied by Dr, Gurinder Singh Grewal met Sikh representatives of Livingston and discussed various ways and means to bring all Sikhs together in one flat form to strengthen the hands of the Panthic Committee which is steering the independence struggle for the establishment of Khalistan.
Jagjit Singh Mangat met various Sikhs and Sikh organizations during his two days stay at Stockton and appealed to the stay united and support the Panthic Committee in its struggle for independence.