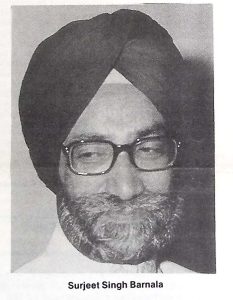 New Delhi, India — A new moderate Sikh government assumed control of Punjab Sunday as New Delhi relinquished rule of the northern state almost two years after dissolving its Assembly for failing to control Sikh struggle.
Indian President Zail Singh signed a proclamation in New Delhi ending the "President's Rule" of Punjab just before the first members of the new administration were sworn in at the state capital of Chandigarh, 170 miles to the north.
It is the first government the moderate Sikh Akali Dal party has ever formed without a coalition.
The new government is headed by acting Akali Dal President Surjit Singh Barnala, who led his party to a landslide victory over Prime Minister Rajiv Gandhi's Congress (I) Party in last Wednesday's state Assembly election.
The 59yearold lawyer said his first priority would be implementing the agreement between Gandhi and late Akali Dal leader Harchand Singh Longowal aimed at redressing longstanding Sikh political and economic grievances.
Barnala took over the party leadership when Longowal was killed Aug. 20 by gunmen furious over the so-called ''Punjab Accord."
"The people of Punjab have given us the mandate to heal the wounds inflicted by the previous Congress government. The Congress party dominated Assembly was dissolved after failing to control violence that claimed hundreds of lives.
Political analysts saw the Akali Dal's victory was a signal that bloodshed weary voters believed the moderate Sikhs would have more success in controlling the radicals.
Barnala said he would name a commission to oversee the release of hundreds of Sikhs, mostly youths, jailed to prevent a disruption of the election.
Barnala took the oath of office with the first five members of his Cabinet, selected from among the 73 Akali Dal candidates elected to the 117seat legislature.
The party, which participated in the election despite threats by Sikh radicals, will actually control 74 Assembly seats. Krishan Kataria, a successful independent candidate, joined the Akali Dal on Saturday, the Sunday Tribune newspaper reported.
The Congress (I) Party won 32 seats and nine went to minor parties and independents. Two contests were delayed.
Barnala, India's agriculture minister during the administration of former Prime Minister Morarji Desai, will complete his Cabinet selections in the coming weeks, the Press Trust reported.
He was prevented from naming his entire Cabinet this week by the refusal of his closest rival, former state Chief Minister Prakash Singh Badal, to accept a post. Badal controls a faction of the party's new Assembly members and is demanding for the position of Deputy Chief Minister. Barnala is not prepared to accept this condition.