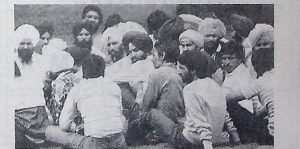 HALIFAX, Nova Scotia, July 23, Reuter: Two of the 174 Asians smuggled into Canada 11 days ago may have links with Sikh freedom fighters who are campaigning for an independent homeland, immigration officials said today.
All but nine of the 174 have been ordered released on bond from detention at a military base here in marathon immigration hearings that began Monday and continued through today. The first was released late yesterday.
Seven were being held as possible security risks and two for medical reasons, the officials said.
Immigration official Wayne Piercy said at least one of the nine was believed to belong to the AllIndia Sikh Student Federation which is dedicated to setting up a Sikh homeland in India. im just told that one of them was (a member)", said Piercy, "I understand there's another one".
The first of the migrants to be freed was Amrik Singh Dhindsa, 35, who was released yesterday into the custody of a Sikh businessman from nearby Datmouth. The remaining 164 will be freed as soon as Canadian sponsors post bonds.
"We're in communication with various Sikh communities in Toronto and in Vancouver", said Lee Cohen, a lawyer hired by Sikh organizations. "We're coming up with lists of large numbers of names who are prepared to sign a performance bond and hopefully will also be prepared to act as a sponsor'.
Gurcharan Singh, Secretary of the Federation of Sikh Societies of Canada, said today it was raising money for the bonds. The Federation represents 43 member groups across Canada. Including virtually all Sikh gurdwaras (temples), he said in Ottawa. The Federation considers itself the umbrella group for the 200,000 Sikhs in Canada.
Cohen said' he hoped all the Asians eligible for release would be free by the weekend.
If any of the 164 Asians awaiting sponsors have not been freed by next Thursday, they will have to undergo new detention reviews. Under Canadian law, detention orders must be reviewed by an adjudicator every seven days.
Formal immigration inquiries will not continue until the Asians move to their new homes. At the inquiries, they can officially apply for refugee status.
The 174 Asians — 173 men and one woman — were dropped off the south coast of Nova Scotia by a 55metergeneral cargo freighter called the Amelie.
For the first time since the Asians were brought to Halifax, the gymnasium at a downtown military base today was empty. The 164 waiting sponsors and the two medical detainees are in barracks while the other seven are at a nearby detention facility.
On Tuesday, Amarjit Singh Garcha, 24, became the first refugee to be sent to the detention facility. A police officer told an immigration hearing that Garcha said he would kill if ordered to do so by the AllIndia Sikh Student Federation.
Immigration inquiries were held today for the other eight ordered to remain in custody. Abdul Sattar, 42, a Pakistani, was identified as one of the two men detained for medical reasons, but specifics of his care were not revealed. The second was not identified.
The other six, all Indians, were told they will be allowed to stay in Canada while their claims for refugee status are processed,
Sattar, Davinder Singh Dulay, 23, Rashpal Singh Rattu, 25, and Paramjit Singh Mehra, 21, said they want to stay in Canada permanently.
However, Harbans Singh Rahti, 29, Avtar Singh Hayer, 31, Harwinder Singh Sangha, 26, and Pritpal Singh Randhawa, 25, said they wanted to return to India when it is safe to go back.
The refugees must report to immigration authorities once a month after they are released. In the meantime, their claims for refugee status are considered.
On Tuesday, arrest warrants were issued for four men believed involved in the smuggling operation. Three warrants were for Asians while the fourth was for an unidentified man about 25 years old, possibly Mexican or Spanish.
Police believe that the men came ashore with the Asians, but left before police arrived.
A fifth warrant was issued' last Friday for the arrest of Naranjan Singh Naam of Coventry, England. Three men pleaded' guilty last week to their part in the smuggling scheme and were sent to jail.
Lorne McKiel of the Halifax Royal Canadian Mounted Police said a Mexican man arrested yesterday in Grand Falls, New Brunswick, was no longer a suspect in the case. The man who carried no identification was arrested while riding a railway cargo car.