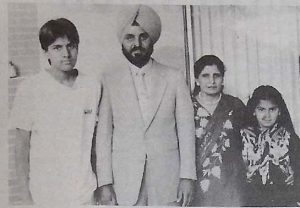 Sukhchain Brar, a dedicated and sincere worker, does not like to come into the limelight.
Brar, who was born at V. Rode a village which gave birth to great martyr Sant Jarnail Singh Bhindran Wale, in June 1945. His father S. Dan Singh Brar died two years ago in January 1926. Sukhchain did his schooling from his native village. He graduated from D.M. College Moga in 1969. He got Law Degree from University of Kurukshetra in 72-73.
Sukhchain was wedded to his charming wife, Tej Kaur Brar in 1973. They are proud parents of a son Amanpreet and a daughter 'Navneet.
'The couple migrated to U'S.A. in 1975. They also found initial help from Yuba City. They did every odd job to establish themselves in U.S.A. Brar qualified in test to join a post office job in 79, where he is still working.
Brar has specialized himself in many spheres. He has successfully established his contacts with the local newspaper, "Modesto Bee" to feed them with correct information about Punjab situation and has successfully checked the misinformation campaign of Indian government,
Sukhchain successfully took up the kirpan case of S. Kulwaran Singh of Livingston with the District Attorney, County of Stanislaus and the case was withdrawn.
Sukhchain has also shown a way to other Sikhs to participate in the political process of U.S.A.
Sukhchain is an ardent supporter of a strong news media of Sikh community to present the real cause of Sikhs to American masses.