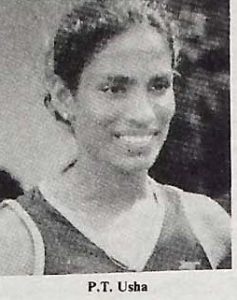 NEW DELHI, India, Reuter: The Olympic hopes: 'of 800 million Indians rest on the beach but has consistently hit gold in Asia and who managed to finish fourth at the 1984 Olympics.
However, at Seould a formidable array of east bloc athletes stand in the path of Pillavalla kandi Thekaparambil Usha's dream of betting her fourth place in the 400 meters hurdles at Los 'Angeles. The 1984 Olympics were boycotted by the east bloc.
"She is the only for us. So, in that sense she carries the aspirations of more people than anyone else at Seoul "said Indian Olympic Association member Vijay Kumar Malhotra.
India's Olympic record is dismal in all disciplines except the men's hockey, where it has won eight golds, a silver and two bronzes. "But even our hockey standard has become so poor that we barely qualified", said Malhotra
Only one individual Olympic medal has been won by India — a Bantamweight wrestling gold at Helsinki in 1952.
"We don't do the selections in a proper way, there are not enough facilities and our training camps should begin four years before the Olympics, not four months," said Malhotra.
'The pressure to win the first Olympic track medal for India appears to have little effect on 24yearold Usha, a lanky and soft spoken employee of Indian railways.
still trains on a beach near her native Payyoli village in Southern Kerala state where madhavan Nambiar selected her more than 10 years ago to coach into one of Asia's most 'outstanding athletes.
"It's my favorite training spot, the vastness gives me a sense of freedom which I don't experience anywhere else," Usha said in her autobiography "Golden Girl":
She says she learned to run when she was 10, waiting near a mango orchard to pick up fruit that fell from the trees. She would race her three sisters for the fruit and usually won.
"I ate more than all my sisters put together", she said.
Usha's successes and a lack of comparable talent have forced India to enter her in as many events as possible to win medals, she has taken part in five or six events at every Asian competition since 1984,
"The country has given me so much, I must repay it. If I don't who will?" says Usha, She won five golds at the Asian track and field championships in Jakarta in 1985 and four of India's five golds at the Seoul Asian Games a year later.
India sent a continent of more than 400 officials and competitors to the Asian Games, provoking widespread criticism in Indian newspapers of the squad's size and selection. Papers said Prime Minister Rajiv Gandhi telephoned Sports Minister Margaret Alva in the middle of the Games to ask why India had not yet won any event.
Told by Alva that India would start winning once Usha's events began, Gandhi was reported to have said: "Then, send only Usha in future".
Usha herself said she was disturbed that India took more than 10 days to win a gold and that it spurred her to go all out in her first appearance, the 200 meters heats, where she set a new Asian Games record.
She said: "There was really no need for me to go flat out. But I just wanted to shake off the Indian blues". The challenge in 1988 will be even tougher than that in Los Angeles for Usha, running against a full strength field of top east bloc 400meter hurdles and ranked in the lower half of the world's top 50 in the event.
But Coach Nambir believes Usha can dip below 54 seconds in the high voltage tension of an Olympic final after the years of pounding the sand near the village where she grew up in poverty.
Usha now has a large house, provided by a grateful government, and a chauffeur driven car and has received many presents given by grateful fans for the gold medals she has won for India.
Her popularity extends to Seoul, where South Koreans chanted "Oosha, Oosha" every time she appeared on the track at the 1986 Asian Games.
"Wherever I went, | was mobbed by crowds," said Usha, adding that her room in the Asian Games village was stacked with gifts showered on her by South Korean admirers.
Indians hope she will have a triumphant return to Seoul for the Olympics but the dreams are tempered by reality.
Malhotra said: "This is the tragedy of Indian sport…..that our wildest dream is for Usha to win a bronze".