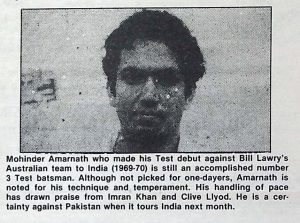 CUUTTACK, India, Reute: India was boosted by a punishing century stand between Kapil Dev and Dilip Vengsarkar, and then snapped up two Sri Lankan wickets cheaply, as they took charge of the third and final cricket test.
Captain Kapil plundered 60 while the dependable Vengsarkar scored his test highest of 166, and the pair put on 111 for the sixth wicket in 25 overs. They lifted India from the overnight 224 for three to 400 all out.
Sri Lanka captured the last five wickets for 17 but their delight was tempered by losing openers Sidath Wettimuny and RAvi Ratnayeke before the close of the second day when they were 37 for two.
The touring team, who trail 10 inthe series, were encouraged when mediumpacer Ratnayeke sent back Raman Lamba and Ravi shastri before lunch, only for Kapil and Vengsarkar to put India in the ascendancy in their contrasting styles.
Vengsarkar, who took 15 minutes this morning to score the two runs needed to complete his 14th test century and second in successive tests, was even more obdurate after reaching three figures, while Kapil timed his strokes perfectly.
Kapil was bowled by Anurasn and Vengsarkar's chanceless innings containing 14 fours was ended when he was LBW to Ratanayeke who, moving the ball in the air and generating page and lift, richly deserved his five for 85. Leftarm Anurasri was a perfect foil, bowling with varying spin, trajectory and pace to take four for 71.
Sri Lanka plunged into trouble against the spinners, first when left arm Maninder Singh had Wettimuny caught by Kapil at second slip for six.
Ratnayeke fell for 20 to off spinner Shivial Yadav, who had the all-rounder caught by Kris Srikkanth at forward short leg.