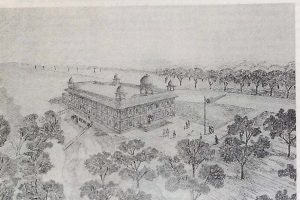 Glen Rock, New Jersey, NJ 07452 (201) 4479891
SRIGURU SINGH SABHA INC
148 Forest Avenue Paramous, NJ 07652 (201) 2659547
MANAGEMENT COMMITTEE:
President: S. Kamikkar Singh Grewal
President: Ranbir Singh Bhalla
Gen. Secretary: Pritpal Singh Khalsa
BOARD OF TRUSTEES:
Amarjit Singh Grewal — (201) 6646829
Amar Singh Gill — (201) 2658918
The Ground Breaking Ceremony of the Gurdwara Sahib building to be constructed on a 3acre property on 22 Prospect Street in Glenrock, N.J. was held On April 11, 1982. The auspicious occasion was conducted by Panj Pyaras. The architectural design is done by S. Gajinder Singh (Architect). The construction of the building is being supervised by S. Pritam Singh Grewal as Chairman of the Committee.
BRIEF HISTORY:
The Society was formed on February 25, 1972 with an Inaugural Kirtan. The approval of the draft charter and the election of the first working committee took place on July 15, 1973, with S. Harbhajan Singh Braich as founder and President. The Society was incorporated On October 9, 1974, with tax exempt status on November 19, 1975. The Gurdwara Sahib Building, on a 13 acre site in Bridgewater, was purchased on December 6, 1979 and the first Kirtan in the Gurdwara was held on December 24, 1979. The Society held a youth camp at the Gurdwara facilities on April 6, 1980.