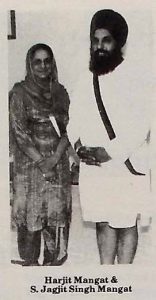 S .JAGIIT SINGH MANGAT has created a place for himself in the hearts of the Sikhs of U.S.A. and Canada with his dedication and commitment to the Sikh struggle in Punjab.
Sardar Mangat, who was totally. Absorbed in his business interests and was little known in New York beyond his personal and social Circles before June, 1984, has now earned a unique place in the Sikh community and has become a leading figure in the religious and political circles of the Sikh community.
This total transformation which the young Mangat experienced was because of the brutal attack of the Indian Army on the Golden Temple, killing of thousands of Sikhs before and after the murder of Indira Gandhi, constant violation of human rights in Punjab and continuous killings of Sikh young men in fake encounters. These heinous crimes committed by the Government of India, brought Mr. Mangat to the front line of the Sikh struggle. Since then, he has never looked behind.
He associated himself with every political Sikh struggle and organization which claimed to fight against the repression and oppression of the Indian government against the Sikhs. Mr. Mangat became the founder member of
the W.S.O. and was elected as member of the Governing Council of the International W.S.O. Mangat is also one of the founding directors of the World Sikh News and is now the Vice President of the Management Board.
God has blessed young Mangat with spirit of sincerity, dedication, hard work, and systematic and scientific approach to every problem and project. These qualities have made him a successful business executive and a respected leader of the Sikh community.
Jagjit Singh Mangat, who is a product of Public School Digshie. (HP) migrated to U.S.A. in 1971 when he was only 21 years old, In 1973, he had added his name to the list of the successful businessmen in U.S.A.
Sardar Mangat has inherited his humble nature from his parents S. Sadhu Singh and Sardarni Jaswant Kaur who hail from V. Ramgarh, Distr. Ludhiana.
Mangat married Harjit Kaur in 1972. Harjit, whose parents had shifted their business to Delhi, originally belonged to V. Maudpur. Distr. Ludhiana. Mangats are the proud parents of two sweet children, son Amandeep (15) and Mona (10 1/2).
Mangats are shy, sober and humble by nature but are keenly interested in promoting World Sikh News and upholding the Sikh dignity, identity, and freedom. In their own words, "They want to serve the Panth in whatever capacity they are called upon to serve. They will not lack behind, even if they have to sacrifice their lives". However, they do not like any publicity in the press.
Mangats are totally committed to the Sikh ideals and are busy in promoting them. Jagjit and Harjit took Amrit on Vaisakhi Day i.e. April 16, 1988 to join the mainstream of Amrit Dhari Singh's. This has enhanced their standing in the Sikh Sangat of the area.