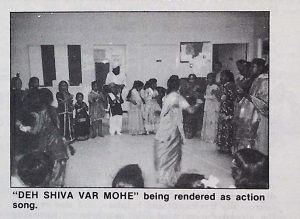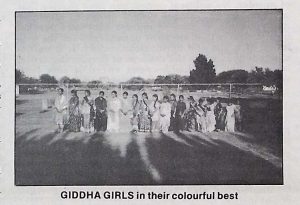 Sacramento — a colorful closing function of the IInd Sikh Youth Camp was held at Community Centre on Stone Blyd., Sacramento.
The entire group marched into the Hall to the music of "Deh Shiva Var mohe." It was a treat to see the young kids marching seriously and with dedication. The function started with entire group singing, "Jo mange Thakar Apne Te" the Sikh National Anthem. Small children recited the Pehli Pauri of Japji Sahib Names of ten Gurus five beloved ones (Pyaras) and four Sahibzadas (sons of Guru Gobind Singh). Individual items were presented. Tabla by Abhindrajeet Sandhu and dasjeet Somal and Harmonium by Pradeep Rye and Ajaypal "goldie" were commendable. Girls presented Giddha and Boys Bhangra the famous folk dance of Punjab, in their traditional colorful costumes. The entire group, both boys and girls, recited some "Bolian" which the audience enjoyed very much.
Prof. Kirpal Singh Grewal and Narinder S. Somal gave brief introduction and description of the camp. The camp is organized by Sikh National Educational and Cultural Organization every year in August. This year camp was started on 1ith of August and closed on 24th of August. Every camper had to get up early morning and attend Gurdwara at 8 am. Before breakfast where they recited the Sahbads. At 8:45 am. Everyone had his breakfast. From 10 a.m.12 noon classes were held in Punjabi Language, Sikh History and Sikh Traditions.
After the lunch children had classes in music and then Brain storming session. In the late afternoon classes in Punjabi culture Giddha and Bhangra were held. In the evening there were games. At 7 p.m. everyone attended the Gurdwara and recited Sahbads. Dinner was served at 8 p.m. Students were taken out to State Fair, San Francisco, Capitol building, and had two Barbecues. They enjoyed and had lot of fun along with learning and exposure to Sikh religious Traditions and culture.
Mr. Somal thanked the Sangat and Managing committee of Sikh Temple Sacramento for their all-out support. Special mention was made of:
Mrs. Joginder Kaur Rye Mrs. Harinder Kaur Shergill
Mrs. Sharanjeet Kaur Ranu
Bhai Gurbachan Singh Mrs. Satwant Kaur Somal
Mr. Narinder Singh Somal
Mr. and Mrs. Pargan Singh Bola
Who stayed at the camp and devoted all the efforts and time to make it a success.
Also…
Mr. and Mrs. Amrik Singh Gill
Mr. Jagat Singh Rye
Mr. and Mrs. Kirpal Singh Grewal
Mr. Harbhajan S. Shergill
Mrs. Nirmal Kaur Rye Mrs. Parkash Kaur Rye Mrs. Gurmel Kaur Grewal Mr. Sarbjit Singh Bling Mr. Karnail Singh Bola Mrs. Karnail Singh Bola Mr. Rajinder Singh Bling who contributed most of their time, for its success. The Sikh National Educational and Cultural Organization thanks the parents of the children for their cooperation and participation.