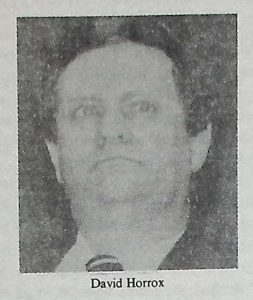 TRONTO, Ont.: David Horrox, a conservative, evangelical Baptist verbally attacked Mahatma Gandhi and called him "a crank in his personal life". He made the remark at the school board meeting on March 30 while objecting to the naming of a school after Gandhi.
His remarks sparked off angry protests from the Scarborough Hindus who failed to wrench a public apology from trustee David.
Chanting Gandhi's favorite hymn, Sita Ram, and wearing Gandhi caps the protestors organized by Metro Hindus waved hundreds of placards as they marched around the Scarborough Civic Centre's central space during a rally prior to the meeting.
But even after dozens of speakers demanded he apologize for calling Gandhi a "crank" over a schoolnaming issue two weeks ago, Horrox replied he was speaking the truth.
"To silence a dissenting viewpoint is to assume infallibility. Those who have contended that I should be silenced or that my life should be terminated are assuming the mantle of infallibility, a mantle that Gandhi himself would not have assumed," he said, reading from a statement.
A former student of political science, Horrox made available last night 60 pages of extracts from eight books on Gandhi which he said substantiate his statements. Arguing for his freedom of
speech, Horrox said "it is a principle of Canadian law that the dead have no rights and can suffer no wrong".
As he read those words, a plainclothes Metro police officer stood stone-faced behind Horrox, who has received death threats since making the comments.
Horrox became a trustee in 1982. His remarks at a March 30 school board meeting led to the current controversy. In a vote to decide which names should be accepted for future schools, Horrox spoke out against the name of Hindu leader Mahatma Gandhi, calling him "a crank in his personal life" and saying he had an obsession with bowel movements and enemas.
And the trustee said Gandhi had a "shameful" attitude towards women and his own family, and a "shallow" philosophy.
At the end of the meeting, trustees voted 54 to remove Gandhi from the name list prepared by the board's school naming committee, and the board decided to review its naming policy.
Last night, a small counter protest broke out during the rally as Horroxsupporters began waving their own placards and shouting down Hindu and political speakers.
But uniformed and plainclothes Metro police moved in before the yelling and shouting could escalate.