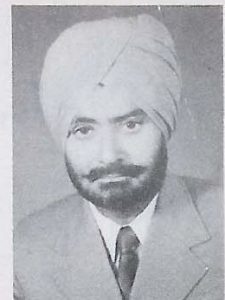 S.GURMIT SINGH: Some people are born with a silver spoor in their mouth but some shape their destiny through prising nature and hard labor. S. Gurmit Singh of New Jersey belongs to the 2nd category of lucky individuals. As the proverb goes "God helps those, who help themselves", he was blessed with a fortune and fame from the very beginning of his bright career. Destiny always shapes individual's career. Gurmit Singh, who qualified himself as an engineer from the College of Engineering at Rurkee, turned into a king of gasoline business.
Gurmit Singh, who became known as "Mann" just because of his partnership in the first business establishment "Mann Motor Service" is actually "Chattha" by sub caste.
Mann or Chattha (you may call him by any name) was born to Mrs. and Mr. Amrik Singh at V. Dhanaduri, Distr. Ropar in the year 1933. He got his schooling at Khalsa Higher Secondary School, Kurali. Later he joined the prestigious Engineering College of Rurki (UP) and obtained a diploma in Civil Engineering in 1953.
Gurmit Singh preferred business to service to establish himself in life. He joined "Mann Motor Service", established near the famous Pusa Institute, New Delhi in 1953 in partnership with a close relation. This modest business put him firmly on the road to prosperity and fame. Soon Gurmit earned the reputation of a successful businessman and a trusted friend.
But still unsatisfied with the present avenues of promotions in business and to try his enterprising. Push, he migrated to U.S.A. in 1974.
Here he proved the wisdom of his decision, by establishing a successful business in New Jersey State.
Gurmit Singh and his life partner, Ravinder Kaur, were married in 1962, are the proud parents ofa son Manbir (Micky) and two sweet daughters, Dolly and Sonia. The young Micky has successfully undertaken most of his father's burden on his young shoulders. He is now showing the signs of a skillful businessman with a desire to rise and developed.
Gurmit Singh Chattha, who has the instinct of politics in blood, is already deeply associated with political organizations and community's projects. He is the trustee of the Sikh Cultural Society, New York and is also a Director of the World Sikh News, the "United Voice of the Sikhs" abroad.