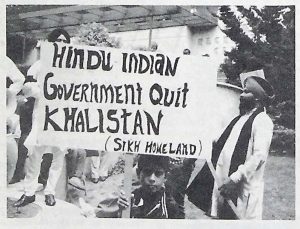 San Francisco — Sikhs in large numbers gathered here on August 15, 1985 (India's Independence Day) to protest against the unprincipled accord between Rajiv Gandhi and the deceased Sant Harchand Singh Longowal (Longowal has since been assassinated). The participants came from all parts of California. There were large contingents from Los Angeles, Stockton, Modesto, Fresno, Yuba City, Delano, Bakersfield and Livingston. The contingents from Stockton and Modesto came in specially chartered buses.
The protest march started after invoking blessings of the Guru through the Ardas. The assembly was addressed among others by S. Didar Singh Bains, S. Sulakhan Singh Dhillon, Dr. Amrit Singh Bains, S. Sulakhan Singh Chima, S. Hardyal Singh Dhatt, S. Bakhshish Singh, Mrs. Gurbax Kahlon and Prof. Sidhu. The speakers squarely condemned the accord and declared Harchand Singh Longowal's action as the gravest betrayal of the Panth. He was called a puppet of Rajiv, and considered chiefly responsible for the army invasion of the Golden Temple in which thousands of innocent Sikh pilgrims were mercilessly butchered along with the revered Sant Jarnail Singh Bhindrawale, Bhai Amrik Singh and Gen. Shubheg Singh.
The participation of a large number of children and ladies in the demonstration reflected the intensity of resentment in the hearts of the Sikhs. It also proved that the protest was not just a symbolic political action but represented the reaction of the nation as a whole on being cheated at the sell out by a handful of self-seekers among the Sikhs. The demonstrators marched in perfect discipline to the consulate office raising slogans, "we want Khalistan,' "Down with traitor Longowal," "Sant Jarnail Singh Bhindranwale Amar Shaheed."
Demonstrators also burnt the Indian flag. Entrance to the consulate was blocked by steel fences which were also guarded by a large police force. The policemen watched the whole scene with the characteristic indifference of their profession.
The demonstrators kept to their schedule beginning the protest rally at 2 p.m. and ending by 4 p.m.