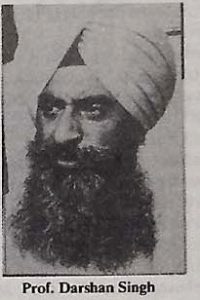 AMRITSAR: Prof. Darshan Singh who had been appointed as Jathedar Akal Takhat by S.G.P.C and took over its charge on August 31, 1988, has denied he ever entered into a deal with Govt of India through Acharya Sushil Muni.
In an interview with the newsmen he said that Acharya came to Amritsar and gave a number of assurances on Sikh rights, He agreed on the demand for the release of Jodhpur detainees, army deserters and detained Akali leaders. He even brought an agreement on the transfer of Chandigarh to Punjab and declares Amritsar as a holy city. I refused to sign the agreement because it was the job of politicians. He said he would not take any initiative in starting the process of dialogue, because his past experience was very bitter. His only effort was to create a congenial atmosphere and not to hold talks himself. He said Jain Muni went back with the promise that all the assurances given by him will be implemented within two days. These were the prerequisites for starting a dialogue but the government did nothing as it simply wanted to mark time just because of the Haryana elections.
Prof. Darshan Singh alleged he was forced to quit as Chief of Akal Takhat under a conspiracy of the Govt because he refused to toe the government line.
The Akal Takht Jathedar said he would avoid involving Akal Takhat in political affairs. I will not allow the prestige of Akal Takht to be lowered.
He appealed to the Sikh youth to follow the Gurmat Sidhants to achieve their objectives.
If you give up the Gurmat Sidhants, all your sacrifices will go to waste. He asked youth to try to unite at one platform. He also denied having any deal with the militant leader Baba Gurbachan Singh Mano Chahal as reported by Sunday Observer, which said that Takhat Chief had entered into a deal with Baba Mano Chahal to ensure a smooth comeback as Akal Takhat Chief,
The Punjab problem Prof. Darshan Singh said was political in nature and it has to be solved' by them. Prof. Darshan Singh said if there was any religious exploitation it was done by the politicians unless the politicians sincerely try to find out the solution of the human right violations the peace will elude Punjab. The Sikhs must be told in clear terms that this country belonged to them and they are the true partners in the development of this country. Unless this was done and the government's credibility is established, the Punjab problem cannot be solved.