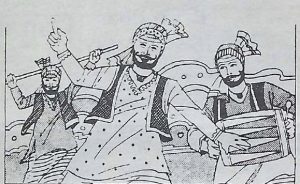 From
SOUTHERN CALIFORNIA
Present
PUNJABI CULTURAL NITE, 88
On
Saturday, May 28, 1988 at 6:45 p.m.
In Saxson Auditorium Saxson Avenue, 1570 East Colorado Blvd. Pasedena, and Ca.
The Following Items Will Be Presented During The Show:
Songs: Pammi, Ravi, Hardev, Pritama, Gurdip, Jaspal, Balli Dances: Deep Rajput, Kajal, Summan Marwaha, Ravi Mann, Harpreet, Sonia, Sukhi
And Soyne Dargan. Mirza Hasiban: Pammi and Summan
Group Dance: Kajal, Kiran, Deep, Summan, Pammi, Ravi, Sukhi Bhanara:
Directed by Kanwaljit Singh Sandhu, Vancouver Gidda: Produced By Jasbir Brar
Children's Program: Dr. Rani Dargan
Orchestra: B.K. Puri
* A Non-Profitable Charitable Program, Sponsored By Sikh Community Of
Southern California.
For Further Information, Please Contact
Bikram Ghuman (818) 330-6640 Jaswant Singh (818) 985-2085
Security arrangements are being provided by
Los Angeles Police Department.