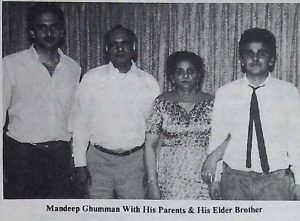 MANDEEP GHUMMAN, son of Dr. Joginder Singh Ghumman and Mrs. Ghurcharan Kaur, graduated from Palo Alto High School with highest honours and distinguished scholar award.
Mandeep will now attend U.C. Berkely next year with an honorary scholarship. The young Ghumman is planning to enter into the medical school for getting a M.D. degree.
Mandeep's parents are also known academicians. Dr. Ghumman got his Ph.D, in Veterinary Pathology from U.C. Davis and his mother Mrs. G. Ghumman was the Principal of Master Tara Singh Degree College for women at Ludhiana before migrating to U.S.A. His elder brother Tej Paul is studying to be a veterinarian to step into the flourishing business of his parents.
Mandeep was honored many times during his schooling with different honours and awards.
Young Ghumman is also interested in extract curricular activities they include travelling, reading, playing flute, dancing to the tune of Bhangra, swimming and playing tennis.
Currently he is studying some books on Sikh history and development of Sikh religion and hopes to attain a better understanding of the Sikh religion and its unique cultural heritage. For this, he is indebted to his grandfather for 'guidance.
Some of Mandeep's major honors and awards are: Bank of America Outstanding Student in Computer Science; Rachel Austin Award in Social Studies; Certificate of Merit Natural' Sciences; Certificate of Achievement Chemistry (Advanced Placement) R.O.P. W.S.N. wishes Mandeep a good luck and congratulates Ghummans on the brilliant performance of their son Mandeep Ghumman.