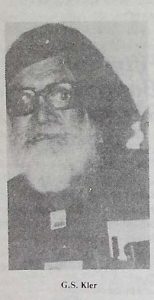 By A Special Correspondent
New Delhi, India — Veteran athletics statistician Datuk Gurbaksh Singh Kler of Malaysia has been honored with the SAM Benson and Hedges Gold Award for leader ship recently.
Seventy six year old Datuk Kler is the third recipient of the prestigious award. The other two were Malaysian Prime Minister Tunku Abdul Rahaman and Tun Abdul Razak.
For this yeoman service to Malaysian athletics and promotion of the game in Asia, Kler was bestowed with national title of Datuk in 1978.
Kler, who left India in 1927 at the age of 15, was in the capital last week on way back from his home town in Punjab. The conversion with him led to athletes in Asia.
In the Olympic year Kler does not for see startling performances by Asian athletes at Seoul. However, he feels Koreans might spring a surprise as the Games are being held on their home soil.
Kler has no hopes from Indian athletes. "Even your best P.T. Usha will be nowhere," he said without mincing words.
"She is a good athlete and a fine person but not good enough to even make it to the final of 400 meters hurdles at Seoul". He added.
Usha was 29th in the world rankings last year and has not performed well to upgrade her Standing since then,