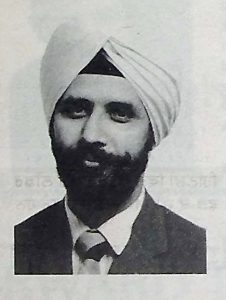 JASPAL SINGH RAO, a talented and immature photographer of the Bay Area, was born at Sialkot now in Pakistan. His father Dr. Ude Singh, retired as Warden of Fisheries, Pb. Mr. Rao did his BA. in quality control and also got the degree of M.B.A. before entering into the economic race of life. He started his job with Ampex Corporation and presently works for D.O.D. Defense Control Administration Services Quality, Assurance Div.
Mr. Rao, who can always be seen behind the lens of the camera on every occasion, possesses a revolutionary thinking for the glory of the Panth. He has probably got his fervor from his historic and revolutionary village Daheru, Distr. Ludhiana, a village of great martyr Shahid Amarjit Singh.
Mr. Rao was associated with number of social and religious organizations. He was one of the founder member and President of Sikh Centre of Bay Area El Sabrante, a founder member of the management committee of Sikh Gurdwara Fremont, Ca. and was once the chairman of the religious 'committee of the temple. is also the member and also became President of San Carlos Camera Club San Carlos.
World Sikh News is indebted to Mr. Rao for providing his historic and rare collection of photographs for publication on different occasions.