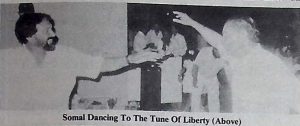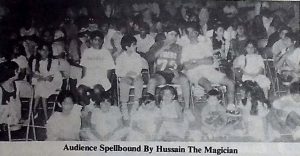 STOCKTON, Ca. Mrs. and Mr. Narinder Singh Somal, the Secretary of the World Sikh News Inc., provided an exciting Opportunity to the Sikhs of Stockton and the neighboring areas to join them for the celebration of the Independence Day of America.
This day also' joined the main stream of American people in celebrating their national day in a glorious manner.
This gala function' was held at the residence of Somals on the evening of July 2, 1988. A large number of friends and admirers responded to their invitation.
At the Opening of the exciting Program, a magician Nijjam Hussain, a migrant from Hydrabad (India) delighted the audience with his skillful tricks. Later an eminent folk singer Jagat Singh Jagga entertained the guests with melodious folk songs of Punjab.
The guests were entertained with sumptuous dinner. The function lasted till the early hours of the next day.