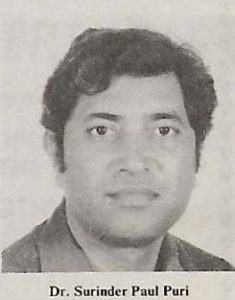 DR: SURINDER PAUL PURI,M.D: is one of the finest Punjabi doctors practicing family medicine here. He hails from a prominent family from Sangrur. After graduating from Medical College, Amritsar, he joined as Medical Officer in Sangrur. During his ten years stay, he became very popular because of his selfless and dedicated service to the ailing brothers and sisters. It was hard to leave the loving people in Punjab.
He moved to U.S.A. in 1979 and got his specialized training at Pittsburg. Since 1983, he has been in practice and offering his experienced, friendly medical service to all the members of community. The needy and new community members get his special attention as service in the motto not anything else.
He has enlisted the services of other specialists to provide the complete medical care.
Usha Tanden, a very intelligent and an experience dentist provides the dentistry service at the Centre.
Dr. Puri has a varied interest in life, He skies, and plays golf and attends social and religious functions of the community as all claims he belongs to them.