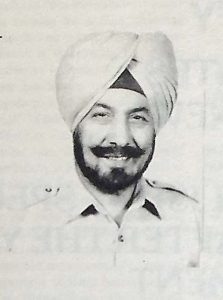 DR. SULAKHAN SINGH DHILLON Ph.D. was bom in District Ferozepur, Punjab. He migrated to U.S.A. as a freshman in 1954. He did his undergraduate work at the University of Waho Moscow, graduate 'work at University of Hawaii and California Institute of Asian Studies.
His area of academic specialty is the East West Philosophy with special emphasis on epistemology. He has written several articles and lectured at various colleges. Currently he is teaching philosophy at Golden Gate University, S.F.
Dr. Dhillon is an activist for the Sikh cause. He is very active in the Would Sikh Organization. When somebody asks him about his goal, he wishes to see the Sikh community advance in discipline, cooperation and knowledge to grow as free people and take their place in the world.
Dr. Dhillon is very active in the field of real estate investment in the San Francisco bay area. In spite of his busy life in U.S.A. he also manages his agricultural farm in Ferzepur district, together with his father.
Sometimes his friends are surprised that in spite of his busy schedule, he keeps up his sport, hobbies of playing golf and hiking.
The Sikh community looks upon him as a friend, guide and. a philosopher.