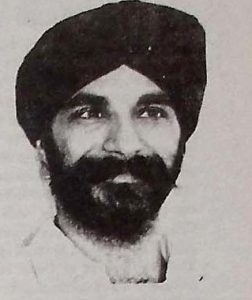 Singapore: It is for the first time in the parliamentary history of Singapore that a young Sikh lawyer S, Davinder Singh has been elected as Member of Parliament in the elections held on September 6, 1988. Mr. Singh won this seat on the ruling party PAP's ticket in a keenly contested election. The PAP again wrested the control of the parliament by winning 80 seats.
Davinder Singh, 31, is a practicing Lawyer at Singapore. He is the youngest in the family of five. He got his education from St. Michael's primary St. Joseph's institution and National University of Singapore. He graduated in 1982 with L.L.B (Hons).
Mr. Davinder Singh joined PAP in 1987 and is the member of PAP youth wing headquarters committee,
Mr. Toni as he is popularly known is getting married on Saturday.
Mr. Davinder Singh hopes to propose the setting up of a Government Parliamentary Committee on law. According to him such a GPC could comment on the political aspects of legislation.
I think it is a good thing, I think it will solve a lot of problems," Mr. Davinder Singh concluded.