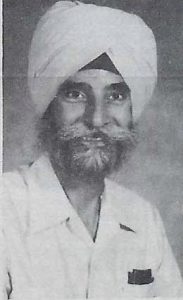 DR BALWANT SINGH of Pascagoula, Mississippi, has recently received many national, state, and local honors. Dr. Singh received a certificate of appreciation for significant contributions to national political action on behalf of public education from the National Education Association Political Action Committee (NEAPAC), He was honored by the local Moss Point Association of Educators (MPAE) with the President's Award for his dedication to the teaching profession. Dr. Singh also received recognition from MPAE for outstanding leadership and dedication to public education and the united teaching profession as Faculty Representative and Spring Representative Assembly Member. He was selected as a Southeast representative to the National Education Association Human and Civil Rights Minority Leadership Training Program. Dr. Singh was recently elected to the Pascagoula Democrat Committee and there he was elected to the Jackson County Democrat Convention. At the county convention, he was elected to the Jackson County Democrat Convention. At the county convention, he was elected to the county Democrat Executive Committee and as an alternate to the regional and state conventions, where he participated as a delegate.
Dr. Singh was elected by the Mississippi Democratic Party to serve as an elector of the Electoral College for the State of Mississippi in the 1984 Presidential Election. Dr. Singh has also been named to numerous biographical volumes. These prestigious volumes recognize leading citizens, on the basis of his outstanding educational background and varied teaching experiences. The prestigious biographical volumes in which Dr. Singh has been chosen include Who's Who in American Education, International Who's Who of Contemporary Achievement, Two Thousand Notable Americans, Personalities of America, Men of Achievement, Directory of Distinguished Americans, Personalities of the South, Who's Who in the South and Southwest and Outstanding Elementary Teacher of America. Dr. Singh was chosen for inclusion to these biographical volumes because of his outstanding civic and professional contributions to this community, state and nation.
Along with his active involvement in professional and civic organizations, Dr. Singh has also participated in many national and international Sikh conferences, He is a member of the Sikh Society of the South, headquartered in New Orleans, La. He was also a member of the Religious Committee of the World Sikh Organization in 1986.
Dr. Singh is married to Mrs. Mohinder Kaur Singh is also a teacher in Moss Point School System, The Singh's have two children, Ravinder Singh (son) and Davinderjit Kaur Singh (daughter).