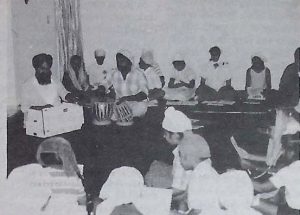 FRESNO; First Sikh Punjabi camp was held at Sri Gurdwara Sahib Campus of Fresno from August 22nd to August 26th. Twenty five boys and girls participated in the camp. August 2 6th evening 'was a memorable evening for the parents of participating children. They were happily surprised to see their children doing Shabad kirtan and giving talks on history of Punjab and Sikh.
Mrs. Jasbir Kaur Sidhu and Mrs. Sharanjit Kaur Ranu with the help of mothers and Giani Gurbachan Singh Ji' organised this 'camp in a very professional and educational way.
Children were introduced to the basics of Sikh religion and Punjabi language. Sikh history and present ongoing struggle in Punjab was also explained. Open discussions and debates were part and parcel of educational process. Bhangra, Giddha and sports were part of camp activities.
All the children gave excellent remarks about the camp activities and wished to continue the camp for another week,
To continue this educational process Organisers are planning to start Sunday Sikh Religious Study School. During schools summer vacation there will be summer school for 4 weeks. Community leaders feel that need of the day is to educate our American born children about our culture, religion and language.