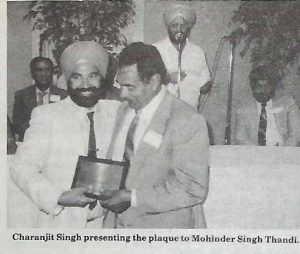 FRESNO, CA: The fifth special supplement of World Sikh News, covering the Sikhs living in the Central Valley, California, was released at a glittering function held at Ramada Inn here on Sunday, August 28, 1988. The hall was packed to the capacity, thanks to the untiring efforts of S. Charanjit Singh Batth, Paul S. Mahal, Jagjit Singh Gill, Mohinder Singh Thandi and Amarjeet Singh Tut. The dinner was preceded by a delectable Punjabi cultural program presented by the well-known group, Shane Punjab. The program was compered by Mr. Sohan Singh Dhola who regaled the audience with his crisp humor and scintillating jokes. Bhajan Singh and Sat Pal presented number of Punjabi compositions including their latest radio hits; the inimitable Jagat Singh Jagga was the special highlight of the evening. The artists were introduced by Harmohinder Singh Bhullar, Manager World Sikh News who had spent sleepless nights for almost a month going over every detail of the program and mobilising support for the newspaper. The central valley promoters of the World Sikh News
who were honored by presenting appreciation plaques included Char anjit Singh Batth, Jagjit Singh Gill, Mohinder Singh Thandi, Paul Mahal, Amarjit Singh Tut, Charanjit S. Sihota, Dr. Gurdip Singh Ranu, Dr. Harcharn Singh Chan, Dr. Paramjit S. Fagoora, Dr. Ujjagar S. Dhillon, Dr. Gurcharan Singh Sidhu, Dr. Mohinder Singh Poonia, Dr. Harpreet S. Grewal, Avtar S. Mann, Harmohan S. Sohi, Hardyal S. Dhatt, Amrik S. Gill, Dr. Sohan S. Mahil. Dr. Harbhajan S.
Shergill, Jagjit S. Boparai and S. Gurcharan Singh Dhillon. Dr. Ranjit Singh Rajpal, Baldev Singh Sangha and Rajinder Singh Bling were honoured in absentia. Sarpas were presented to Avtar Singh Bhullar, Daljeet Singh Gill, Sarbjit Singh Sidhu, Nachhattar Singh Batth, Mohan Singh Sanghera, Sardul Singh Sihota, and Jasbir Singh Grewal for their support to the newspaper.
In his introductory remarks, Prof. M.S. Sidhu, Editor in Chief, WSN, pointed out that Sikh slavery in India was chiefly on account of the lamentable negligence on the part of the Sikhs in not developing their own media. Sikhs, by and large, remained ignorant of the subtle moves by the Arya Saraj dominated rulers to absorb Sikhism in the Hindu mainstream, he said.
Welcoming the guests, Mr. Charanjit Singh Batth appealed to the Sikhs to make a united bid in making World Sikh News a representive newspaper of the Sikhs. "This newspaper does not belong to any individual, or group or an Organisation, it belongs to the community as a whole," he said. He thanked the guests for graciously responding to their invitation.
Dr. Gurinder Singh Grewal, President WSN, traced the development of the newspaper from eight pages to its present size. Referring to the growing fraternity of the World Sikh News, he said that only five or six persons had met at a private residence in Fresno nearly four years ago to mobilise support for the paper, and in today's function the hall was packed in full. After another four years, the number is bound to grow into thousands, he said. He emphasised upon the need for a powerful media without which true picture of the struggle in Punjab will never be known to the world.
S.Gurcharan Singh Dhillon President WSO expressed satisfaction and happiness at the big support to the newspaper. He also briefly mentioned about WSO aims and its present activities.
S.LakhbirSingh Chima, Vice President WSO (west) laid stress on the unity of the Panth. He said that the newspaper is doing a great service to the Sikh nation and can play a very constructive role in bringing Sikhs together on one platform.
Jagjit Singh Gill also talked about the need for unity and ex hosted Sikhs to support the newspaper. Dr. Harcharan Singh Chan and Dr. Gurcharan Singh Sidhu Recited very meaningful couplets; that conveyed much more than long speeches. S. Hardyal Singh Dhatt related his association with the Gurdwaras and congratulated
Dr. Grewal for his services to the newspaper. S. Amarjit Singh Tut said that it 'was important to have our own media and every Sikh should consider it his moral duty to support the newspaper.
Amrik Singh Gill briefly narrated about his association with the paper and S. Narinder Singh Somal, Secretary WSN, thanked everybody for making the function a grand success and particularly applauded the Shane Punjab group for providing a thrilling entertainment. He, however. Had one regret. He said he had labourer hard in preparing his speech but felt cheated when all his points were covered by the speakers before him.