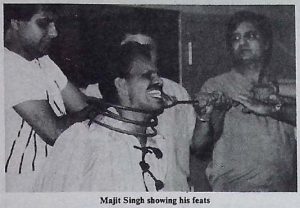 NEW YORK, NY: Manjit Singh, a Sikh from England who is cited in the Guinness World + Book of Records for 2,409 parallels Dar dips in one hour showed various feats of strength on July 14 in Brooklyn here.
Manjit Singh had first set the world record in April 1987 with 831 dips breaking the 1978 record of 718. Six weeks later his record 'was broken by someone who did 1,320 dips. On June 5, 1987, Manjit reclaimed his title by doing 1,681 dips in an hour. Incredible as it might seem, this record was broken in August, 1987, by someone who did 1,754, dips. Manjit says he took up the challenge seriously this time and on April 14, the day after the festival of Vaisakhi he did 2,409 dips a record which still stands unchallenged.
In Brooklyn at the Jack Lalanne Fitness Centre on July 14, Manjit 'Singh who originally hails from Hoshiarpur Dist., in Punjab, and is 34 years old with four children, got a friend break a 122 pound concrete block on his head with a sledgehammer.
He then blew up a hot water bottle till it burst and took a 15 foot 1/2 inch thick iron rod and 'wrapped it around his neck… then he proceeded to unbend it, while a large and prominent American audience gasped in amazement.
The whole family seems to be similarly endowed. On November 21, 1987, Manjit's 9 year old daughter Gulvinder Kaur pulled a, 'one ton car for 20 yds with her pony: tail. Her brother Satminder Singh pulled it for the same distance with his teeth. The younger brother, 4 year old Jatinder Singh, was not to be left behind; he pushed it with his hands for the same distance. Manjit Singh, the father pulled it with his ears! His trip to the U.S. was sponsored by Citi Garments, a firm in which Manjit works. When asked how he does all these incredible sounding things, Manjit Singh said "through perseverance, Guru's grace and the help of my friends".