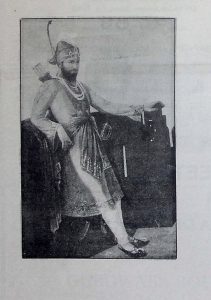 SIKH TEMPLE SACRAMENTO
INVITES YOU ALL AT THE
OCCASION OF VASAKHI
TO CELEBRATE THE FOLLOWING PROGRAM
AMRIT SANCHAR: (AMRIT CHHAKNA)
* The ceremony will be performed on April 11th, 1987, at Sikh Temple Sacramento. Interested sangat members, please contact: Mr. Bakshish Singh Banwait,
Gen. Secretary, (916) 371-9787.
VASAKHI GURPURV:
* April 10, 1987 -Arambh of Akhand Path at Sikh
Temple, Sacramento.
* April 12, 1987 – Bhog – followed by special kirtan (3 days parshad and langar sewa by Sukhdarshan Singh Chahl & family.
VASAKHI NIGHT:
PROGRAM FEATURES:* GIDHA *BHANGRA
* PUNJABI SONGS & OTHER VARIETY ENTER-
TAINMENT. * Special performance by Sunday School, directed by Jagat S. Rye.
FOR FURTHER INFORMATION PLEASE CALL:
(916) 371-5415
(916) 371-9787
Bakshish Singh Banwait, General Secretary