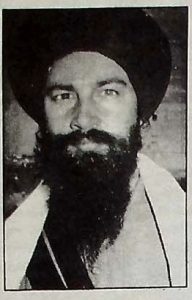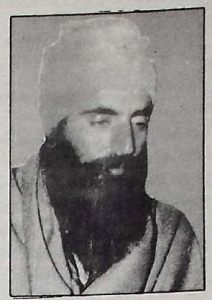 To Observe
HOLOCAUST WEEK
In The Memory Of Those Martyrs Who Laid Their Lives For The Sanctity Of
The Golden Temple During The 1st & 2nd Week Of June, 1984
All Sikhs Are Invited To Attend The Concatenation
THE PROGRAM WILL BE AS FOTTOW«.
* "Ghaloo Ghara Day" — Sunday, June 5, 1988
* The Bhog of Akhand Path Sahib of Guru Granth Sahib will take place at 9:00 a.m.
* The speakers and poets will pay their tributes to the martyrs.
* ARDAS DAY FOR THE SOLDIERS AND MARTYRS — Sunday June 12, 1988
* After the Bhog of Akhand Path of Sri Guru Granth Sahib, the Sangat will perform the Ardas
For the Chardhi Kala of those soldiers who deserted their barracks in anguish and anger against
An attack on the Golden Temple and for those martyrs, who laid their lives protecting the
Sanctity of the Golden Temple.
* Sikh Panth will never forget the day when the butcher government of India attacked the
Golden Temple, killed thousands of innocent pilgrims and has kept thousands of Sikhs in jails
Without trial.
* Guru Ka Langar will be served on all those days.