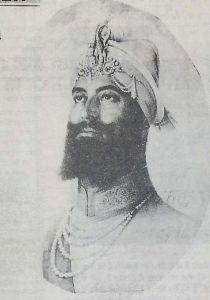 Born on November 29, 1901, at Sri Hargobindpur in Guards district, Sobha Singh stored to eminence as a painter of the masses inch by inch. He had his early schooling at Amritsar before he joined the Indian Army as a draughtsman and was posted at Baghdad for a couple of years, but art could not flourish in offices. He resigned his job and became free bird. He dabbled in all sorts of commercial art to make a living; He wandered from place to place in search of his identity. He had a stint with the film industry at Lahore, acted and directed a play at Prettnagar, opened his studio at Conaught Circus, New Delhi, but never felt at home.
Ultimately, it was Andretta, a small village near Palampur, that fascinated him and he decided to settle there in 1947 once and for all. The recluse had found his home in a village nestled in the lap of the snow-clad mountains. He was in his mid-forties and had grown in wisdom. The rustic philosopher artist created an aura of Italian romance in his villacum-art gallery. All great paintings were created in his sleeping room-cut-art studio. The room has been kept spick and span even after his death in 1986 and the credit for this goes to none else but a devoted lady, Bibi Gurcharan Kaur.
The easel, the colour tubes, the brushes in one comer, the portable typewriter with stationary items on an improvised writing table in the other comer. The hard bed of the artist, his stick and spectacles, on the bedside a China clay cup saucer along with a coffee machine; some dry fruits and a beautiful church-type bell hangs close to the bed. Small bookshelves full of rare works especially books on Buddhism and Sufi mysticism, besides those on art, mostly procured from Italy when the artist visited the country in the late seventies. Some of the paintings are also hung on wall as in the same room, including his complete paintings.
With the passage of time, he had evolved his own definitions of art and artistic philosophies. According to him, "art is to realize the ideal and to idealize the real. It is neither completely real nor totally ideal. Art is symphony in composition." This type of vision of art and reality has imparted a translucent aura to his paintings, be it Sohni-Mahiwal or Guru Gobind Singh or the Kangra bride. It is his devotion behind the divinely creations that overpowers the viewers, commoners and the connoisseurs alike.
He explained his process of making a painting in the simplest of terms. "I draw skeleton sketches first of all, may be 40 or even more. Then comes the select on from among the large number of basic sketches. Out of this grows the desired painting. What is a portrait? It is building up of a design in fact."
In a handwritten letter to me in 1971, he wrote, "Forget about nationalism. We had had enough of it during our freedom struggle. We are becoming affluent and materialistic and have forgotten the transcendent chords. Religion is nothing but faith. Masses cannot be educated through a materialistic philosophy. They can receive wisdom through religion. It inspires them. I have painted gurus to inspire people. Painting the gurus is nearest to the ultimate in the evolution of my real self." And throughout the world he is known primarily 45/4 painter of the divine and rightly, too, but he. Had equal regards for prophets of all religions.
Apart from the Sikh Gurus he painted Lord Christ, Lord Krishna, Baba Faird, etc. Of course, it was the love-lore of SohniMahiwal that brought him early fame. "HeerRanjha," "Sohni in Heaven", "Kangra Bride" and "Gaddan" are some of the other gems in his repertory.
In the early eighties, he was a worried man because he thought something had suddenly gone wrong with the social climate of the country, especially Punjab. He thought it was the affluence on the one side and human' values on the other that were fading away fast. But he was certainly hopeful of the ultimate goodness of the people. It was at this juncture again that he. Emphasized the need for religion rather an amalgam of all religions.
Honors came to him like leaves to a tree. He was decorated with the Padma Shree by the President of India in 1983. His greatest honor, according to the philosopher artist himself, was the unending stream of visitors who came to him from all comers of the world. And he received them all with a smile. He would answer to all sorts of queries, even the ridiculous ones. He did not change with the honors or the extraordinary fame. He maintained his simple lifestyle, impeccably neat and clean.
The artist is no more but his immortal paintings enliven his art-gallery, which has been maintained meticulously by his daughter, Bibi Gurcharan Kaur, and his grandson, Mr. Hirday Pal Singh.