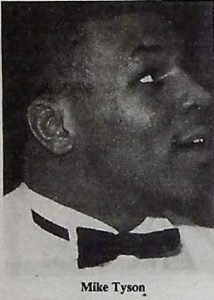 ATLANTIC CITY, N.J., Mike Tyson, a windmill of a fighting machine from the opening bell, knocked Spinks and crushed the challenger with a right left right combination to knock him out in 91 seconds into the first round.
In the brief but devastating defence of his undisputed World Heavyweight Crown, Tyson's power was awesome as fellow American Spinks could not get away from the champion's furious punches to the body and head.
'Tyson staggered Spinks with one of his first flurries and then put him down with a right to the body.
Spinks was up at the count of three, but the human tank that is Tyson pursued him, catching him with devastating body punches and slamming Spinks to the floor with a combination to the head.
Spinks, undefeated in 31 fights and never knocked down in his professional career, lay splayed on the canvas.
He rolled to his side and was counted out at one minute and 31 seconds of the first round by referee rocky castellant of the United States.
Tyson, who will earn at least 20 million dollars for the fight, answered all critics who predicted his highly publicized personal problems would district him from boxing.
"I m a professional and whatever happens the job has to be done," said Tyson.
With the furiously quick destruction of Spinks — who will earn 13.5 million dollars there appears to be no real challenge to Tyson's crown on the horizon.