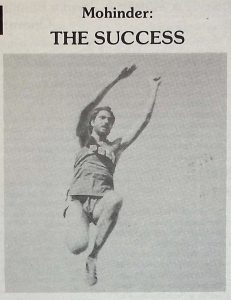 MOHINDER SINGH, the name brings memories to mind, ranging about sports events as wide apart as college and national to international events. To meet him, I drove to Turlock where he resides, Turlock is a small town on highway 99 South of Stockton. For more than an hour and over lunch and tea; we talked of his career which is truly success personified.
By Raj Singh
His success started in his childhood. Way back around 40 years ago he was born in village Jamsher in Pakistan but the family moved to Pholriwala near Jullundur. The idea of sports and athletics came to him in high school in 1961. The sports schools were brainchild of former Chief Minister of Punjab, the late Pratap Singh Kairon, who had been a student in California. Mohinder did well at high jump, but at the national school games he won triple jump and ever since then he concentrated on this event. Later on he went to Kurukashetra University where he did exceedingly well. Years later he returned to the same university having attained world status. The State government officials were informed by him "do not create jobs, create facilities. You need more competition for athletes no need to spend on administrators. I need full independence to operate as head of sports". It is a reflection of his thinking that he chose to tum down the offer.
The turning point in his life came in Tokyo in 1967, at the World Student Games. It was here that he met Tommy Smith, who arranged for him to travel to U.S.A. and continue his studies and sports. Smith gave Mohinder's address to many coaches including the one at Calpoly, where he studied.
Since he did not get the recognition that he deserved, Mo (as he is known to his many friends in the U.S.A.) decided to migrate to States, to prove that he was the best, not only in India but elsewhere too.
Mo, had ambitions of representing India early in his high school days. It was here that Ken Bossen the head coach spotted him and encouraged him to no end. The same Bossen is a frustrated man especially after the recent Asian games at Seoul. The red tape of beauocracy in India has led him to coach Taiwan athletes,
According to Mohinder, "India stands in the same position it occupied 20 years ago. It is nowhere" he says in disgust "Once in a way you get athletes like Milka Singh in the 60s then me in 70s and now P.T. Usha who without doubt is world class.
"India has the talents and dedication in athletes to be champs, but system is not made for progress of sports".
"There is a lot of bureaucracy the system. No real dedication on part of administration to improve performance in every field of sports". The 1988 Olympics are round the corner. The predictions of Mohinder make sense.
"The Japs and Chinese along with Koreans will do well, the traditional rivals U.S. and Russians will be a close affair. As for his pet event triple jump, his favorite is, who else, Willie Banks of U.S.A.
Mohinder's triple jump record stands at 5641/2". He is BS. in Business' from Cal Poly with a masters in "Physiology of Exercise" from University of Red Lands in Southern California. His Statistics make impressive reading. He has competed in 75 international competitions as a winner. He won 5 NCAA championships; has been 1st in U.S.A. for five years and held 19 international track records,
His adjustment to this country, that he calls his home is wonderful. The local press and media have done numerous stories on him. He is happily married to Narinder who is from England and both are blessed with two wonderful children, Herman, 7, (son) and Amit 2 1/2 (daughter). Most of his family resides in the Bay area of San Francisco.
The sports business that he owns is operated from Turlock. All kinds of sports goods are sold through the outlets all over U.S.A. As I got up to leave, he wished farewell, and said "I am happy that I am in sports business because it involves a lot of travelling."
He is heading for the Far East later this month. Still fit a fiddle, he works in the local gym and his physique has hardly any extra ounce of fat.
The name of the game you guessed it is Mohinder.