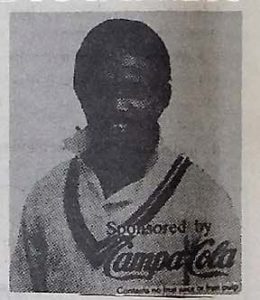 Whatever chances the Indian bowlers had of making; fight of the Bombay Test they threw away with their approach. The spinners, on who much depended, resorted to a flat tragectory, the wicket had a little bounce and was turning and I would have expected them to fight the ball inviting the West Indian batsman down the wicket to play their shots. The only exception was Shastri and he picked up the two wickets to fall in the morning session.
Haynes picked up form where he had left off on Sunday evening. He played an attractive innings which was reminiscent of his younger days before he graduated to become a defensive opener. Richards played two of the best shots of the day his straight drive of Shastri rocketed past the bowler even before he could get his hand down to stop the ball. The other shot, a square cut off Shastri off the back foot, cleared the boundary like lightning. He eventually fell when he played Maninder for the armer but found the ball turning unexpectedly to bowl him.
Logie came in and was run out to a most unfortunate misjudgment, and West Indies, at 146 for 4, appeared to have yielded the advantage to India. It took a highly mature innings by Richie Richardson to reverse the trend. After Logies run out, he became increasingly aware that the responsibility of a respectable total was on him, it was not a flamboyant Richardson we saw him in the afternoon. He looked subdued but reliable. He looked subdued but reliable. He tried to 'Stay around when the West Indies looked heading. For a collapse and scored 89 in the process.
Hooper's four of the lat ball before lunch underlined the debutant cricketer's confidence. West Indies need reliable batsmen at No. 5 and 6. In Tuesday's innings of 37 is any indication, then we have seen one to follow in the sequence of Richardson, Richards and Logie.
Davis also swung his best around for a useful 27. He is no ordinary tail ender. He looks combat, and played a few productive strokes, not being afraid to launch into the short pitched bowling.
On a wicket which did not assist the fast bowlers, Kapil Dey did well in his 'Opening spell. He cut one back into Richardson early on and the batsman 'was lucky to survive.
Vengsarkar attacked the batsman in the morning but it surprised me that he kept using a silly point when using the spinners. The current West Indian lot uses the bat more than the pad, and as such, very few. Edges would have gone off the bat pad to silly point. Perhaps, the fielder could have been better utilized in the Outfield.