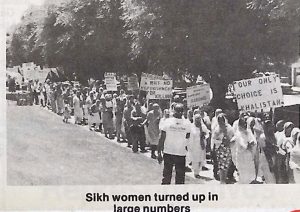 San Francisco: Sikhs living in bay area and the valley staged a peaceful demonstration here before the Indian Consulate to mark first anniversary of the Amritsar .tragedy in which over 6,000 innocent Sikhs were gunned down by the invading Indian Army.
Nearly 500 Sikhs including over 150 ladies, donning traditional Saffron (Kesari) turbans and Dupattas raised political slogans condemning Indian communal imperialism and demanding Sovereign Sikh State.
The Sikh protest reflected the continuous strain and tension because of hostile divisions among the Sikhs and Hindus in India. Sikhs feel morally offended at the Army attack against their holiest of the holy temples. The situation has been further aggravated by the press bans and stringent restrictions on the travel of Sikhs living in foreign countries that have their roots and relations in Punjab. The virtual occupation of the state by the army coupled with draconian laws has cut off Punjab from the rest of the world. Sikhs living in India outside Punjab are being treated as hostages.
Gathered in front of Rossi Park in a suburban neighborhood of the Richmond District, the contingent from San Joaquin County carrying a blue and gold banner to identify them marched with other Sikh immigrants to the Indian Consulate.
"Long live Khalistan," "We want free press," "Rajiv, you are on Trial, prove your innocence,"
"Who gave voting list to killers," and host of such placards provided an eloquent commentary upon the genocide of Sikhs in India.
The rally was addressed among others by Prof. Sulakhan Singh Dhillon, Guraharan Singh Dhillon and Mrs. Gurbax Kahlon. Sukhvir Kaur Dosanjh of Stockton said, "We want Khalistan because Indian government is hostile to Sikhs and kills them." Hindu soldiers, she claimed, stoned her and her father as they stepped off the train from Punjab. Indian consul A.K. Pandey acknowledged that there are many restrictions imposed on Sikhs in Punjab.