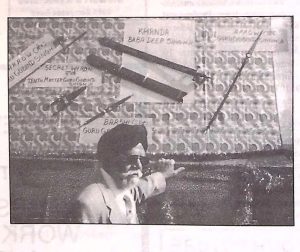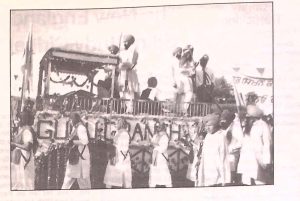 Yuba City: California Yuba City, known as the miniature Punjab in California, wore a festive look on Sunday when thousands of Sikhs gathered there from all parts of the United States and Canada to participate in the Annual Parade on the occasion of Sri Guru Granth Sahib's 'Guru-Gaddi' Anniversary Celebrations. The newly painted Gurdwara on Tierra Buena Road with Sikhs thronging on all sides in their traditional dresses looked an Island of Sikh Culture bringing to the mind grand spectacles of the HolaMohalla festival at Anandpur Sahib. After the Akhand Path Bhog, prominent Sikh scholars and leaders addressed the congregation.
The parade started at 11:45 a.m. It was a long procession of floats, trollies, cars with thousands of men, women and children walking behind them chanting hymns and raising Khalistan (Sovereign Sikh State) slogans. The procession was headed by a tastefully decorated float carrying the Holy Guru Granth Sahib and 'ragi jathas' singing 'Shabads'. It was followed by a float from Canada depicting ghastly scenes of Sikhs being Burt alive by the Hindu mobs. Next was float of International Sikh Youth Federation with a clearly demarcated map of Khalistan. Behind the float walked a large contingent of determined youths supporting Kesari (color of sacrifice and defiance) turbans and raising Khalistan slogans. Next float belonged to the Akhand Kirtani Jatha. It was followed by the Gurmat Parchar float, American Sikhs float and a Sacramento Gurdwara float. Then came contingents representing various Gurdwaras of California and some other states. The procession marched elegantly on its course. All along its route, the Jocal population evinced considerable interest in the celebrations. People watched from outside their homes and quite a few had made special arrangement of chairs for their friends to watch the colorful pageant. The procession came back to the Gurdwara after three hours and ended with the prayer (Ardas). Regular diwan was held after the procession.
Food (Langar) was served throughout the day.