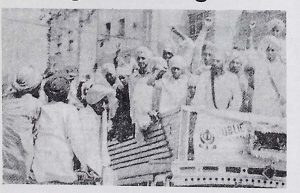 Amritsar, India —Sikhs held a rally in the Golden Temple, urging an election boycott to protest Gandhi's alleged anti-Sikh policies and his recent accord with Sikhs moderates to end turmoil in Punjab.
Organizers claimed more than 20,000 attended the rally called by the militant wing of the Sikh Akali Dal party.
The rally was boisterous, but no violence was reported. Many men wore turbans dyed saffron, the Sikh color of defiance and struggle.
Joginder Singh, president of the Akali militant wing, demanded an election boycott and said in a speech distributed in advance, "It is inevitable that the Sikhs will rule Punjab." Sikh militants are demanding autonomy for Punjab, where – the ethnic and religious minority holds a 65% majority, Gandhi's mother, then Prime Minister Indira Gandhi, was slain last Oct. 31, and her bodyguards were accused of the slaying.